San Zenone Four Ancient Grains Pasta
San Zenone Four Ancient Grains Pasta
Years in the making, we've developed an winning combination of four Organic Ancient Grains to delight palates and fuel busy lifestyles.
To a cunning mixture of Corn and Rice, we added Andean Quinoa and Buckwheat, one of the best sources of digestible protein in the world.
Gluten Free. Certified Organic. Manufactured in a dedicated wheat-free, gluten-free facility.
Delicious, true, al dente texture.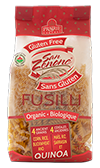 © 2010 Prairie Harvest Canada Limited