Prairie Harvest Beans, Barley & Popcorn
Prairie Harvest Beans, Barley & Popcorn
These new Certified Organic Prairie Harvest products are a gift from Mother Nature. A total food superstar. Healthy. Nutritious.
They contain energy sustaining complex carbohydrates and are a superior source of muscle-building protein. An amazing amount of fibre. Anti-aging antioxidants. And talk about nutrition. Lots of calcium, copper, folate, iron, magnesium, manganese, potassium, selenium and zinc. A veritable shopping list of vitamins. These products are… nourishment.
Cholesterol-free. Low in fat, salt and calories. Excellent for weight-watchers. They're a cook's dream.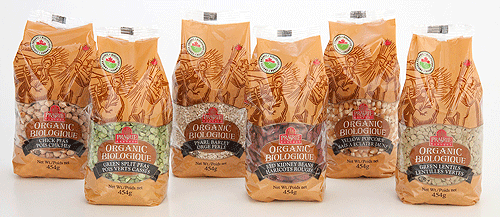 Product List
Organic Beans

Organic Barley

Organic Popcorn
© 2010 Prairie Harvest Canada Limited